Posted by Trianna in Miscellaneous | 59 Comments
Go Girl! It's your SITS Day!
We gonna party like it's ya birthday! We gonna drink Bacardi like it's ya birthday!…
I know it's kind of early, but it's Friday and it's 5 o'clock somewhere! Raise your glass and let's toast to me (and the weekend)!!!
OMG!!! I am beyond excited about today. I feel like it's Christmas, New Year's and my Birthday all at once!
Let me stop gushing. n_n
For those of you who don't know what SITS is, it's a blogging community made up of thousands of female bloggers who support one another through education and comments. Each day they feature a different blogger, and today is MY DAY (insert squeals of glee)!  Their community motto is: "the secret to success is support!"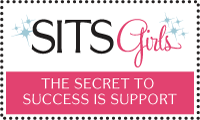 If you're new here, then Welcome to my little slice of Happy! My name is Trianna and That's Too Cute! is my personal tagline. I'm a twenty-something single mother of the sweetest and craziest five year old out there. To say he's a character is an understatement. Yup! He gets it from his momma!
I'm a Brooklyn girl at heart, but I now live in Boston. Coming in at five feet even, it's understandable why I love high heels. I've been walking in heels since I learned how to walk. However, my love for shoes does not only cover high heels. Sneakers, flats, boots…I love them all!
On my wonderful bloggity blog, you can find the latest shoe trends and ways to wear them. I try to keep the average girl in mind, seeing as we all don't have $500 to spend on a pair of shoes (even though I really really wish that I did). You can also find some personal posts about my Baby Boy or myself sprinkled in here and there. And lots of shoe porn. Lots. n_n
Thanks for stopping by and have fun poking about! Here are a few posts to get you started:
Summer Trend: Colorblock- Taking the season's trend and walking all over it.
Comparing Kids- Have you ever had to deal with an obnoxious parent? Am I asking answers right now?
I'm Writing a Book- I'm putting myself out there and letting you guys see what I do in my free time. Besides blogging and shoe-stalking.
Feel free to stalk follow me on Twitter, Facebook and Pinterest. You can also Subscribe to That's Too Cute by Email!